Further Opportunities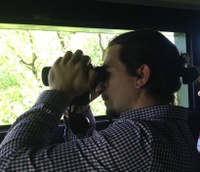 Ideas for additional original PhD projects within the ConFoBi framework are always welcome. We already successfully implemented projects on soundscapes, ungulates and fungi. A pilot study on ticks is ongoing. We are also exploring possibilities to include topics on soil biodiversity, salamanders and forest history. In case of interest please contact the scientific coordinator (michael.wohlwend@wildlife.uni-freiburg.de).
There are numerous options for external funding. Non-German nationalities are especially encouraged to check for scholarships and funding on the DAAD website.
If you are interested in a BSc, MSc, current topic or other theses, you are also invited to contact the scientific coordinator.
We are looking for an MSc student! If you are interested in writing an MSc thesis on the history of our study area in collaboration with Markus Herbener from the Chair of Forest History, we would be delighted to receive an application from you. Please email info@confobi.uni-freiburg.de.