Doctoral Researcher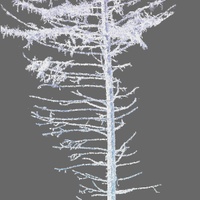 Martin studied at Freiburg University where he received his B.Sc. in Environmental Natural Sciences and Environmental Hydrology. After graduation, he stayed at the University of Freiburg and completed his M.Sc. in Environmental Sciences focusing on environmental modelling and geographic information systems. At the Forest Research Institute Baden-Württemberg, his work focused on the analysis of aerial images. Consequently, he wrote his master's thesis on the classification of deciduous tree species. Building on the work of his predecessor Julian, he is going to develop methods for the investigation of microhabitats.
Xiang obtained his MSc with a major in physical geography science from Nanjing Normal University. During his master's studies, he focused on the detection of invasive species via remote sensing methods, especially the usefulness of different single-class classification algorithms. He is excited to join the ConFoBi project as an associated PhD student because ConFoBi provides the opportunity to conduct research within a group of related researchers and transdisciplinary researchers. Xiang's Ph.D. research focuses on tree species classification and deadwood detection with different machine learning algorithms based on multi-source remote sensing data. His first aim is to examine the potential of multi-source remote sensing data for tree species and deadwood mapping at regional and local scales. The second aim is to map the occurrence of deadwood and relate those occurrences with select environmental variables. He believes the research will help to gather more detailed information on tree species and a better understanding of the distribution of deadwood in the Black Forest region. Xiang is funded by a CSC scholarhip.
Andreea studied forestry and forest engineering (BSc) at the Transilvania University of Brasov in Romania and received the Euroforester MSc degree from the Swedish University of Agricultural Sciences, Sweden. She felt confronted with the controversial question of how forestry should (and would) find the perfect balance between societal and environmental demands to achieve sustainability. She decided to approach this question by looking into the dynamics of forests which are close to natural states. As many agree, these are important sources of ecological information. Disturbance regimes (wind, fire), which have long been considered negative agents outside the management system and neglected in forest management decisions, were of particular interest. Her BSc and MSc theses were thus focused on the dynamics of the primary forests in the Fagaras Mountains in Romania and Bialowieza National Park in Poland. For her PhD, she is keen to use the ecological background from such ecosystems and shift her focus to improving biodiversity in managed forests. Here, the survival of many forest specialist species is threatened by the scarcity and poor quality of tree microhabitats. During her research at ConFoBi, she will focus on the longevity of habitat trees and tree-related microhabitats. This information is valuable since such trees are meant to provide habitat structures for biodiversity conservation for a sufficiently long period. The ConFoBi project is an excellent match for her interests and academic background and she is keen to work in such a dynamic and transdisciplinary environment (hopefully, also to bring smiles on a daily basis with her positive attitude).
Dina studied biology (BSc) at the University of Gießen with a focus on ecology and microbiology. In her bachelor's thesis, she investigated the effect of forest structure on bat activity and diversity. She holds an MSc in ecology and microbial biodiversity from the Technical University of Kaiserslautern.  In her master's studies, she focused on cryptogamic organisms like cyanobacteria, green algae, and lichens. Thereby, her interest in lichens from biological soil crusts was awakened. She wrote her master's thesis on lichens from the Atacama Desert within the framework of the DFG priority program, EarthShape. The thesis investigated the lichen species composition in a fog oasis along a moisture gradient from coast to inland, applying molecular techniques. Furthermore, she examined the role of these lichens in bio-weathering processes. Based on these interdisciplinary experiences, Dina is happy to further advance her skills in the ConFoBi project. During her PhD, she is going to investigate the epiphytic lichen and bryophyte diversity on selected trees to evaluate the effect of forest connectivity and forest structure on the cryptogamic diversity in the southern Black Forest as well as the influence on cryptogamic species cover. ConFoBi is ideal for her because it combines her main interests: forest ecology and cryptogamic biodiversity and conservation.
Diane studied at Reading University where she received her M.Sc. in Plant Diversity, Taxonomy, and Systematics. Her thesis was titled "Molecular Systematics of Aspalathus L. (Fabaceae)". Currently, her Ph.D. thesis focuses on epiphyte and micro-habitat diversity and function on habitat trees. She decided to participate in the ConFoBi project because of her interest in epiphytes and forestry, officially bringing her back into academia. Diane's goals after the project are to continue in her academic research or to work in forest conservation.
Always a nature enthusiast, Sara started her scientific career with an internship at the Fraunhofer Institute for Sustainability and Innovation Research, where she became interested in the interplay between humans and nature as well as the processes that govern global change. Afterward, she pursued her studies in geoecology, evolution, and ecology at the University of Tübingen. Her interests there ranged from patterns that create and maintain biodiversity, e.g. disturbance and heterogeneity, to threats of a changing world and the early recognition of critical transitions in ecosystems that are susceptible to global change. As she moved from smaller to larger scales, she discovered the great necessity to include several disciplines in scientific approaches to investigate the laws of nature. ConFoBi provides her with the perfect opportunity to combine all her studies and experiences. The interdisciplinary approach to explore modern world influences on a forest ecosystem was so appealing to her that she is now committed to three years of intensive research. During her PhD, she is concentrating on how understorey functional biodiversity is influenced by natural and human-made heterogeneity, such as soil properties or forest structures. The field of functional diversity has been emerging for some time now and observing processes related to functional traits of plants might reveal how different communities are formed under their respective environmental conditions. Her work is within the field of community ecology and connects small scale processes with factors that influence plant diversity on larger scales in addition to examining the connectivity of forest patches.
Nolan became interested in nature conservation while studying biology in Buffalo, New York. During an exchange at the University of Alaska, he became interested in the ecology and conservation of terrestrial forest insects through researching insect defoliators. After receiving a B.A. in biology, he went on to study an M.Sc. in ecology at the University of Bremen, Germany. His work there focused on parasitoid Hymenoptera, insect biocontrol, and safe alternatives for mitigating insect damage as well as potential non-target effects on other insects. As a ConFoBi Ph.D. candidate, Nolan is researching the effect of forest retention gradients and other forest structural elements on insect diversity, insect community interactions, and food web interactions. His main interests are the effects of landscape-scale conservation efforts on insect communities and the management of forest ecosystems to promote biodiversity. His focus is on the preservation of natural heritage through interdisciplinary research.
Manuel graduated from the University of Düsseldorf with a B.A. in social sciences, which combines political sciences, communication and media studies, and sociology. Already leaning towards the latter, he continued his studies with an M.A. in sociology at the University of Jena. His focus on empirical social research in general and qualitative interview research in particular led him to work for the Black Forest National Park as a researcher. There, he collaborated in a project exploring the relationship of the local population (particularly the elderly) to the forest and the role it played in everyday life in the first half of the 20th century. Following his predecessor in subproject D1, Ronja Mikoleit, Manuel's research with ConFoBi also relies on using the concept of "professional epistemologies" to analyze how knowledge is established, legitimized and used for making decisions in different contexts. For his PhD project, he specifically focuses on the production of scientific biodiversity knowledge in the context of Retention Forestry, using a Science and Technology Studies (STS) approach. Besides studying how forest scientists, ecologists or geneticists go about their work, Manuel aims to also engage in interdisciplinary research that crosses boundaries between the natural and social sciences. He thinks of ConFoBi as a great opportunity in this regard and values his colleagues for their dedication to their own fields as well as their open-mindedness and eagerness for collaboration. He is looking forward to add new and original perspectives on pressing questions in the field of biodiversity conservation.