Participating Researchers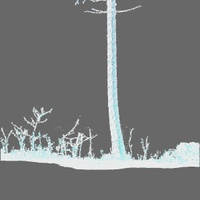 Barbara Koch studied forest sciences at Ludwig-Maximilians University in Munich, after which she worked as a scientific staff member at the Institute of Land Use Planning and Nature Conservation. Her main research areas were the use of multi-spectral optoelectronic airborne scanner data for the detection of forest damage and spectral analysis of vegetation under standardized conditions in the laboratory and field.
Over the years, Barbara Koch has considerably extended her research activity and carried out numerous research projects for remote sensing and geo-modelling in the framework of forest and landscape analysis (e.g. airborne laser-induced chlorophyll fluorescence measurements to detect the vitality of forest trees). She has also worked in the study of multi-polar metric airborne radar data in order to detect various land cover types with an emphasis on forest cover.
Barbara Koch is now the Chair for Remote Sensing and Landscape Information Systems at the University of Freiburg. In addition to the traditional fields in remote sensing, she developed and established a research and teaching program for geo-modelling at the former Faculty of Forestry Sciences in Freiburg. She currently leads the ConFoBi project A1, Remote Sensing Based Methods for the Assessment of Forest Structures.

Jürgen Bauhus is Professor of Silviculture at the Faculty of Environment and Natural Resources at Freiburg University, Germany. He studied forest sciences in Freiburg, Vienna, and Göttingen, received his PhD from Göttingen University and spent 2 years as a post-doc at the University of Québec at Montréal. From 1996 to 2003 he worked as lecturer and senior lecturer in silviculture and tree physiology at the Australian National University. In 2003, he took up the Chair of Silviculture at Freiburg University, where he developed a research program on structure and dynamics of forests, carbon and nutrient cycles, as well as the adaptation of forests to global change. In Freiburg he established an international MSc Program in Forest Sciences, the graduate school "Environment, Society and Global Change" and served as Dean of the Faculty of Forest and Environmental Sciences from 2011-2013. In 2008 he was awarded the teaching prize of the University of Freiburg and the "Professor of the Year" award of the German-wide university magazine, UNICUM. Jürgen is a highly cited scientist who published several books and more than 200 peer-reviewed papers and book chapters. He is currently the chair of the Scientific Advisory Board on Forest Policy at the German Federal Ministry of Food and Agriculture. For his scientific accomplishments he received in 2014 the IUFRO scientific achievement award.

Albert Reif studied biology and chemistry at Julius-Maximilians-University in Würzburg. His Ph.D. research was "Hedgerow Vegetation of Northern Bavaria", which he completed at the University of Bayreuth. Albert Reif continued his academic career as a post-doc with the Forest Research Institute in Christchurch, New Zealand before returning to the University of Bayreuth for an academic council position with the Department of Plant Ecology. Here, he completed his habilitation on the topic of "Vegetation of the Conifer-Broadleaved Hardwood Forests of South Island, New Zealand".
He received his professorship at the University of Freiburg in the fields of vegetation science and site classification in the Institute of Silviculture and the Faculty of Forestry and Environmental Sciences.  For his research in Romania, he has become an Honorary Citizen of Girda de Sus and a Doctor Honoris Causa – an honor bestowed from the University of Agriculture and Veterinary Medicine in Romania. Currently, Albert Reif leads the ConFoBi subproject B1, Epiphyte and Microhabitat Diversity and Function on Habitat Trees.

Markus Hauck studied biology at the University of Göttingen. He followed that purposefully with a successful PhD project and habilitation in botany at the same institution. His research projects were regularly funded by the German Science Foundation (DFG) and focused, among other subjects, on forest regeneration and biodiversity at the border between forest and steppe in the Altai and Khangai Mountains of Kazakhstan and Mongolia, biodiversity and ecosystem functions of beech forests in Slovakia, carbon cycles in spruce forests of the Qilian Mountains in the Tibetan Plateau, and on biogeochemical cycles and plant diversity in mountainous conifer forests.
Despite his broad ecological interests, he is a specialist on lichens but is also interested in other epiphytes and vascular plants. His research led him to become a substitute head, senior lecturer, and eventually professor in Göttingen with a short excursion to the Carl von Ossietzky University in Oldenburg where he acted as senior lecturer and head of the radionuclide laboratory. Since August 2018, he holds the Chair of Vegetation Ecology at the University of Freiburg and therefore is the successor of Albert Reif.

Dr. Stefanie Gärtner
B1: Epiphyte and microhabitat diversity and function on habitat trees
Stefanie Gärtner was educated in forestry science at the University of Freiburg. She received a master's degree and PhD there and specialised in vegetation science. After her PhD, she became a lecturer in Freiburg and spent some time with the USDA Forest Service Research Station in Oregon, USA. She even moved further north, becoming a post-doctoral fellow at the University of Alberta, Canada and enjoyed some work in the far south on the threatened forests of Robinson Crusoe island in Chile. By that point, the University of Freiburg had to let her move on, but the National Park Black Forest gained her: she is part of a great team of scientists there and heads the section on conservation of processes and vegetation development. Thus, ConFoBi is able to profit from an excellent connection to the newly established National Park not far from Freiburg.

Michael Scherer-Lorenzen is Professor for Geobotany at the Faculty of Biology, and teaches both B.Sc. and M.Sc. programs in biology at the University of Freiburg. He is interested in researching the biotic control of ecological processes and how global change drivers – such as climate change, land-use change or nitrogen deposition – are interacting with this control at various temporal and spatial scales.
Within this field, Michael Scherer-Lorenzen focuses on the functional role of biodiversity for bio-geochemical cycles. He also researches applied aspects of biotic ecological processes by quantifying the relationship between ecosystem functioning and the delivery of ecological goods and services. More recently, he started new projects in Soundscape Ecology, i.e. the study of acoustic signatures within ecosystems and landscapes. Here, his team focuses on the effect of land use intensity on acoustic diversity of grassland and forest ecosystems.

Michael Scherer-Lorenzen oversees the ConFoBi subprojects B2, Underlying Mechanisms of Vegetation Change and Diversity in Retention Forestry; B7, Soundscape analysis of the Black Forest: acoustic diversity and forest structure in a managed temperate forest ecosystem; and B9, Structure and Connectivity: quantifying the effects of retention forestry on fungal diversity.

Alexandra Klein studied biology and the University of Göttingen. The title of her Ph.D. thesis was "Bees, wasps and their natural enemies in coffee agroforestry systems in Sulawesi: pollination, interaction, and habitat evaluation". This research highlighted that bee diversity, rather than abundance, was important for high fruit set. Bee diversity was found to be highly influenced by proximity to rainforests and agroforestry management practices.
After graduation, Alexandra Klein worked as a post-doc at the Agroecology group of Teja Tscharnkte where she followed up with the pollination research she started in Indonesia. She became a full professor at the University of Lüneburg for three years before moving to Freiburg to lead the Chair of Nature Conservation and Landscape Ecology.
Alexandra Klein supervises the subproject B3, Diversity and Functions of Plant-Insect Interactions Along a Forest Retention Gradient, which aims to address how forest connectivity and habitat trees affect insects and their interactions with plants. She appreciates that she continues to learn about forest ecology and management from other researchers and students. She believes ConFoBi's strength is the involvement of and collaboration with stakeholders, different research disciplines, and Reallabore.

Gernot Segelbacher studied biology in Tübingen, Baden-Württemberg with a focus on behavioural ecology, botany, and geology. His Ph.D. thesis then focused on non-invasive genetic sampling in capercaillie and contributed to the establishment of genetic monitoring methods. As a post-doc fellow with the Max-Planck-Institut Vogelwarte Radolfzell, he investigated landscape genetic structure in capercaillie until he joined the University of Freiburg in the Wildlife Ecology and Management department in 2005.
Within ConFoBi, Gernot Segelbacher estimates genetic diversity using with saprophylic beetles as a study species. He appreciates the interdisciplinary structure of the project: that researchers work outside their own research and work together on a comprehensive project in the woods.

Veronika Braunisch studied biology at the University of Freiburg, Germany and afterwards worked as a scientific assistant in wildlife ecology at the Forest Research Institute of Baden-Württemberg, FVA. Her PhD thesis focused on the spatial ecology of an endangered grouse species and provided the basis for the Federal Capercaillie Action Plan. In 2008, Veronika started a Post-doc in conservation biology at the University of Bern, Switzerland. Since then, she divides her time between Bern and her main affiliation, FVA Freiburg, where she now leads a research group in forest ecology and conservation.
Veronika's research focuses on conservation biology and animal ecology, mainly in forest and mountain ecosystems. She is particularly interested in developing spatially explicit methods to analyse species-habitat interactions in various ways in order to provide applicable fundamentals for conservation management. Working at two institutes in two countries offers not only the opportunity for joint cross-border projects but also bridges the gap between science and practice as research outcomes can be directly translated into conservation concepts and guide implementation.
Veronika supervises the subproject B5, landscape-moderated use of forest structures by bats. She sees the greatest strength (and challenge) of ConFoBi as the interdisciplinary approach to tackle an important conservation question: how to integrate biodiversity conservation efficiently into forest management.

Ilse Storch studied biology at the universities of Aachen (RWTH) and Munich (LMU), Germany. After a research year in Sweden and a Ph.D. in the Alps, both on wildlife ecological topics, she worked as a researcher and lecturer at the Technical University of Munich (TUM), where she received a postdoctoral degree (habilitation) in conservation biology. She has also worked as an international consultant on almost all continents, and chaired the IUCN Grouse Specialist Group. She became a professor of Wildlife Ecology and Management at Freiburg University in 2004. Ilse and her team are focusing on human impacts on wildlife and aim to contribute to a scientifically sound basis for wildlife management and biodiversity conservation.
Ilse Storch is the spokesperson of ConFoBi. As such, she oversees the coordination and administration, as well as supervising the research on birds and mammals. Ilse Storch believes that ConFoBi forms close links among the participating researchers, triggering interdisciplinary thinking between professors and also the ConFoBi Ph.D. students. She enjoys working with a diversity of people to tackle diverse, inter- and transdisciplinary questions on forest biodiversity. According to Ilse Storch, the biggest strength of ConFoBi is the "all-measurements-on-all-plots" approach, which is also the biggest challenge. This approach ensures that there are continuous and intensive exchanges among disciplines, projects, and the participants involved.

Marc Hanewinkel studied forest science at the University of Freiburg and ETH Zurich and received his diploma in forestry in Freiburg. He continued his studies in Freiburg, where he received his Ph.D., titled "Plenterwald and Plenterwaldüberführung – planning technical model studies, silvicultural, and economic aspects using the example of the growth area Schwarzwald" from the Institute of Forest Economics.
Marc Hanewinkel's main projects and research priorities focus on the impacts of and management strategies for adapting forests to climate change. Specifically, he is involved with research on risk assessment, modeling, and evaluation of climate change impacts. He works to develop adaptive management strategies and apply modern heuristics on problems of multi-functional forest management.
He also coordinated international research projects on adaptation strategies for climate change in Europe. This included projects within the 7th Framework Program of the EU with 20 partners from 15 EU countries and the EU Interreg Alpine Space program. Currently, Marc Hanewinkel is the Chair of Forest Economics and Forest Planning and oversees the ConFoBi project C1, Economic Valuation of Biodiversity-Oriented Forest Management Strategies.

Prof. Dr. Ulrich Schraml
C2: Local biodiversity knowledge and forest conservation practices
Ulrich Schraml studied forest science in Munich. He completed his Ph.D. thesis on "Norms and Behaviors of Hunters", during which he developed a model to understand the socialization of hunters and the corresponding conflicts between different hunter groups. After finishing his Ph.D., he became a scientific assistant within the Institute of Forest and Environmental Policy at the University of Freiburg.
Ulrich Schraml is currently an adjunct Professor at the Chair of Forest and Environmental Policy and the head of the Forest and Society department at the Forest Research Institute of Baden-Württemberg. With ConFoBi, Ulrich Schraml supervises the subproject C2, Local Biodiversity Knowledge and Forest Conservation Practices. He appreciates the close connection to relevant questions regarding forest enterprises and believes the strength of ConFoBi lies with the highly engaged team of young researchers.

PD Dr. Georg Winkel
C2: Local biodiversity knowledge and forest conservation practices
Educated locally, Georg Winkel received his master's degree, PhD, and habilitation from the University of Freiburg. His interests revolved around the socio-political aspects of forestry and bioenergy, not only in the Black Forest but also elsewhere. Naturally, that also touched important aspects such as conservation focusing on Natura 2000, good governance, and climate change. The German Science Foundation (DFG) funded a visit to the renowned University of California, Berkeley and he became a faculty associate at Yale University. For some time, he was also drawn to Scandinavia and worked in Finland.
Besides that, he is actively involved in the International Union of Forest Research Organizations (IUFRO) and has headed the German office of the European Forestry Institute in Bonn, Germany, as well as their Resilience programme, for several years.

Daniela Kleinschmit studied forest sciences at the University of Göttingen complemented by studying political and communication sciences. She received her doctoral degree from the University of Göttingen for a thesis about forest and nature conservation policy in the media. She spent her time as a post-doc at the University of Göttingen and the University of Hamburg where she focused in particular on agricultural policy. She moved to the Swedish University of Agricultural Sciences (SLU) in Uppsala in 2008, first as Assistant and than as Associate Professor. In 2014 she became Professor for Forest and Environmental Policy at the Faculty for environment and Natural Ressources in Freiburg.
Her chair group deal with climate, nature conservation, water and in particular forest policy. Different levels of political decision making (local to international) are included in the research. A particular focus of the research is conceptually on the interplay of actors and institutions and empirically on policy integration.
Daniela was first Vice Dean and from 2018-2019 Dean of the Faculty for Environment and Natural Resources. She is vice president of the International Union of Forest Research Organizations (IUFRO) and contributes with her research to political processes at different levels.
Daniela would like to become a new member of ConFoBi in the future (DFG decision pending) and is looking forward to work with the interdisciplinary team and specially with the highly engaged doctoral researchers. She understands the political and public attention on forest gained by the dry seasons of the last years as a special momentum for policy analysis in the framework of ConFoBi.

Michael Pregernig studied commerce with a focus on environmental economics at the Vienna University of Economics and Business Administration. He continued his studies in forestry with a focus on environmental and natural resource policy at the University of Natural Resources and Life Sciences in Vienna (BOKU), where he also completed his Ph.D. and became an associate professor. Before obtaining a position at the University of Freiburg, Michael Pregernig spent twelve months as a research fellow at the John F. Kennedy School of Government at Harvard University in the USA.
Michael Pregernig currently holds a professorship of Sustainability Governance at the Institute of Environmental Social Sciences and Geography at the University of Freiburg. His research is at the nexus of sustainability, science, and society. In conceptual and methodological terms, he draws and strives to integrate approaches from sustainability science and science and technology studies (STS). Within ConFoBi, Michael Pregernig supervises the subproject D1, Professional Epistemologies and Integration of Biodiversity-Related Knowledge into Socio-Political Decision-Making.

Carsten Dormann began his studies in botany at the University of Kiel. His Ph.D. thesis addressed the effect of climate change on high-arctic plant-plant and plant-herbivore interactions. During his thesis, he developed a strong appreciation of statistical tools, a topic on which he has since written a textbook.  After a short post-doc on introduced plant species in Mediterranean systems, Carsten Dormann became a post-doc, and then group leader, on "biotic ecosystem services" at the Helmholtz Centre for Environmental Research-UFZ in Leipzig. Together with colleagues at the University of Göttingen, he investigated the roles of pollination and biocontrols as ecosystem services. This work also featured a strong statistical/modeling component, which eventually earned him a professorship at the University of Freiburg.
Carsten Dormann works with ConFoBi to study whether scientific knowledge from temperate forests around the world translates to the Black Forest. He believes there are at least three perspectives on the diversity in managed forests: on-the-ground measured biodiversity of important taxa, literature review, and local knowledge from forest owners and managers. He thinks ConFoBi can work to answer many questions, such as if these perspectives agree on management strategies and priorities, where conflicts are, and where the synergies between conservation and timber production are.
Carsten Dormann sees ConFoBi as having two main strengths: the multi-disciplinary composition of the research team and the fact that all projects work on the same plots, meaning that data can be integrated much more readily — and statistically. It takes a large, well-concerted action to understand the various facets, even of this comparatively simple and well-studied system: that's what ConFoBi provides!