Overzoomed But Climate Friendly?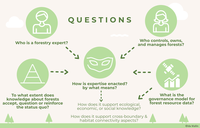 ConFoBi at the International Forest Policy Meeting
After the International Forest Policy Meeting (IFPM) in Copenhagen was postponed due to COVID-19 in 2020, the Chair of Forest and Environmental Policy took over the organization for 2021. The event, which involved over 100 participants, (obviously) took place in an online format from March 17-18. Despite the growing fatigue with online interactions that many of us have grown accustomed to over the last year, the organizers were sure to emphasize the format's climate-friendly benefits in the form of 94-190 tons of CO2-eq in saved emissions for this event. That's the equivalient of 11-22 years worth of Co2 emissions for one person living in Germany!
ConFoBi was strongly represented by researchers from the C and D projects. Led by the initiative of our Mercator fellow, Taru Peltola from the University of Eastern Finland, ConFoBi hosted a panel session on the politics of knowledge in forest management, tackling the following questions:
How do we know forest ecosystems?
What kind of knowledge is considered valid and relevant?
Who participates in the production of knowledge about forests? How can we bring different kinds of knowledge together (for interdisciplinarity)?
How is professional knowledge about forests translated into practice? What determines the policy relevance of knowledge?
How do we study professional epistemologies and knowledge in forestry?
After short introductory presentations on the perspectives of the four ConFoBi projects, as well as Maria Ojanen from the University of Helsinki, guided questions were discussed with the audience. Thanks to the interactive online platform that hosted the conference, we used the breaks for mingling and networking with researchers from all parts of the world. Surprisingly, we almost felt like we were participating in a "normal" conference. This was especially true for the exchange with our "sister panel" on knowledge practices, which included the ConFoBi participation of Ronja Mikoleit and Bettina Joa, that gave input for future cooperations. The discussions touched on the pluralistic forms in which knowledge is created and applied on different levels as well as the importance of doing research on "how we kow forests". Some of the brainstorming results are depicted in the pictures above.
Thus, rather than being "Overzoomed but Climate-friendly" as the organizers advertised, we summarize our participation as "Inspiring AND Climate-friendly".
by Nicole Still (C1), Philipp Mack (C2), Manuel John (D1) & Carlos Miguel Landivar Albis (D2)